On the surface, it's just some theocratic mumbo-jumbo put on by the Saudis in honor of their new foundation which claims it will counter Islamic extremism (haha). But underneath the surface (literally) some utterly weird and over-the-top things have been happening. IN MAJORLY COINCIDENTAL SPOTS.
When Trump joined Egypt President & Saudi King to put hands on the big colorful sphere — it triggered a lotta memes and theories.
IT'S NOT PUBLICLY IDENTIFIED AS SATANIC WORSHIP. That's confirmed. But reportedly, the orb has connections to the original Illuminati rituals. And we know the Iluminati NWO are total Luciferians today.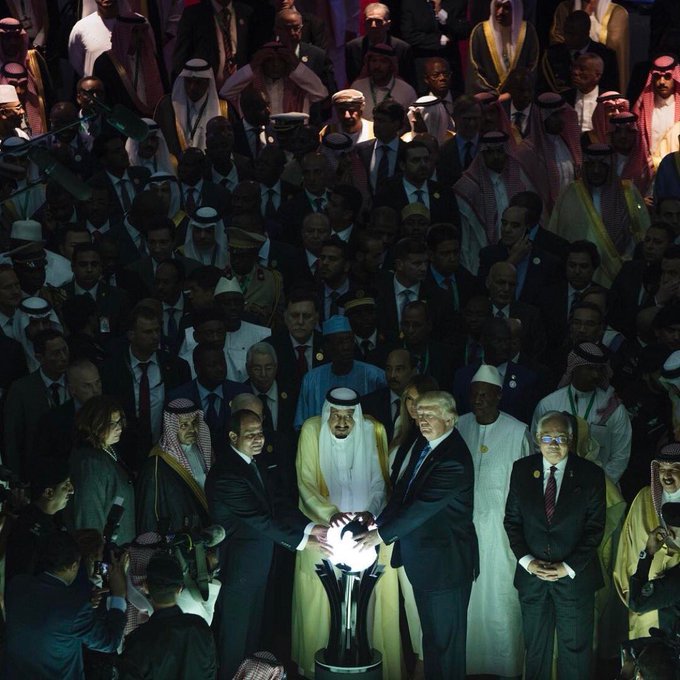 A symbolic cresting of hands against a glowing orb of light (amidst a dark room) in order to show unity in the fight against darkness (aka radical Islam) really makes sense .. and looks cool. Sure, the earth could have been colored like earth..with blue and green. But it makes sense, artistically. SO WHY IS EVERYONE SUPER CYNICAL OF TRUMP ON THIS? Be cynical of the globalists. If this is a sinister, spiritually-wicked, and Satanic mumbo-jumbo operation.. then Trump was not told by anyone in his clique (which is bad) or he heard opposing accounts of the orb ritual's lineage — and believe the orb was nothing sadistic. Well if it's the first guess, then Trump is majorly screwed now. If the second guess is correct, well that makes Trump look less astute than he has proven to be in the past — in the face of GLOBALIST EVIL LIES & TYRANNY.
The orb made a lotta people wonder why that symbolically? Mashable goes super satirical with it's orb explanation.
A few theorists have outright claimed that Trump is a globalist wicked man 
who is NWO member now .. and they say the Illuminati orb proved it.
Even NY Times, trying to be funny, claims that the orb exuded it's "uncanny power over the world's social media. "
Really? Total trash headline. Down there with BuzzFeed and HuffPo hit pieces. The headline makes it seem good that Satanists diverged from Trump's orb. The article misquotes the church to attack Trump. Claiming that the church called this artwork 'evil'? I read every quote from the church about it .. They never called the orb 'evil'. Literally, this headline uses a false statement that will be seen by endless fellow humans and due to media lie they will think Trump is doing really twisted stuff.
Good for WashPo. I won't even hate it. Seems like they are trying to make it scary by saying "behold" and "mysterious" when it's not very weird — it's just an artistic earthly craftsmanship with a bright light exuding, to represent a positive future for the planet. But eh, I've seen much worse.
HuffPo uses major cynical lingo and weird description in headline, to make people seem unnerved before seeing the damn article. Why not headline it "President Trump Holds Glowing Earth Orb With Saudi King For Foundation Opening"? Oh, that would be too truthful. Instead they make it seem sketchy.
OF COURSE the anti-Trump people are there as always to combat Trump whether he is correct or not. It doesn't matter to Trump's political enemies. They hate him and the USA, he loves the USA. So the anti-Trump MSM made Trump seem evil with the orb .. when even if it has wicked mythos — Trump did not plan this NOR want it.
The orb touching took place in a large room filled with suited top officials around the 3 leaders. The orb touching was to open The Global Center for Combatting Extremist Ideology. The orb was apparently a translucent globe (with gray water and black continents — idk why). The Saudi officials watched around the dark room as the orb radiated it's cute lil colors. And at other part of room, computer terminals and screens were on during the event — which wildly illuminated the room more. Trump then went to speak about a lot. According to WashPo, the orb is believed by really faith-embedded Muslims to help them fight wicked ideologies.
So a liberal MSM outlet outright claimed Trump has possession of the 'evil orb' and simultaenously states that one of the world's biggest DEVIL WORSHIPING GROUPS is scared of the Trump orb. WTF?! TOTAL DISINFORMATION!
Ok, so what's next? Is a news report going to say "TRUMP USES MAGIC ANCIENT POWER TO CREATE PORTAL TO HELL AND WE DEMAND MONEY TO STOP HIM!"?!! I mean an 'evil orb' — a 'portal to hell' not very different. So these headline reports are bullshit from MSM. ALL THE REPORTS ARE TOTALLY HALF-BAKED BS ABOUT TRUMP. I mean they have the MSM major outlets going off on Trump because when he walked with FLOTUS Melania, for some reason she did not see him try and hold her hand. So now they attack him with .. yes, that. SAD, SAD, SAD!
WAS THE SAUDIS' EARTH ORB AN ATTEMPT TO UNLOCK TRUMP's SPIRIT TO DECEPTION? TO WEAKEN TRUMP's MIND OR WILL? I know I am claiming metaphysical / spiritual / far-out stuff — but the SAUDIS are a theocracy and rule by archaic, science-conflicting religious texts to govern. So if any gov't would believe in a way for a PORTAL OF DEMONS TO ATTACK TRUMP — perhaps it's them? The ritual is an old time Illuminati ordinance
TRUMP IS NOT DEAD, AND HIS SPIRIT HAS NOT BEEN STOLEN.
Ok so, MSM claims Trump is evil for putting presidential paws on a pure white orb. The MSM has said many things about it now. And basically want idiots to believe Trump is a demonic entity.
So Hillary and Obama are the ones who micro-managed ISIS and built them to be a powerhouse of hell-goblins. And boy, they are HELL's FAVORITE GOBLIN TODDLERS. ISIS, Obama and Hillary's military operation, are total SAVAGE, RETROGRADE, SCUMBAGS! But despite that EVIL FORCE by H & O, despite Hillary's TOTALLY WICKED SATANIST doings & THIRST FOR INNOCENT BLOOD, despite Obama being a full-out child-killer — and despite Obama hanging out with purebred, coldhearted, psycho authoritarians like the CASTROS & the IRANIAN MULLAHS .. Trump is evil according to MSM. Because of a white glow-ball that represents world unity and peace — according to the people who presented it. YOU SEE HOW MISLEADING THE MSM IS ABOUT THIS MYTHIC ORB?!
2. MSM reports intentionally use creepiest looking snapshot of orb and Trump. UNECESSARY ZOOM IN TO SHOW BLACKNESS BEHIND 3 WORLD LEADERS WITH A MAGICAL BALL, MAKING SURE IT'S AS CREEPY AS COULD BE. Wouldn't a picture of the jam-packed Saudi crowd watching on as 3 international mega leaders embrace each other through the worldwide challenge of RADICAL ISLAM be a little more CLEAR AND ACCURATE? The MSM literally made people believe that Trump thinks he is powered by God through the orb now or something crazy. Now people are saying "HAHA. TRUMP IS AN NWO SHILL, HE TOUCHED THE BIG GLOW-BALL." and saying that the Saudis really know orb is devil's power, despite no proof. What Trump thought the moment was? UNITY BETWEEN 3 LEADERS ON WORLDWIDE PLATFORM, OFFERING HOPE TO ALL INNOCENTS ACROSS RACIAL, NATIONALITY, AND RELIGIOUS LINES — THAT ISLAMIC EXTREMISTS ARE GOING TO BE DELT WITH TO THE BEST OF ALL 3's ABILITIES. Did MSM convey that? NOPE.
The orb looked like a sci-fi movie prop. But to Saudis, it is a religious and symbolic artwork of unification under one goodwill for humanity. The Holy Bible is used to swear in U.S. officials, the Saudis used a earthlike sphere to ring in a new foundation. Not a big deal.
NY Times propaganda site used low-angle pic of a weirdly-lighted Trump to display under their orb article. All three leaders looking different ways, making them appear to be off-sync — when in fact they were just getting adjusted for pics. And NYT used split-second to make them seem awkward. NYT could have used many other pics to clear up story.
Trump has dropped TRUTH BOMBS on Saudis' evil deeds, and he will do it when he wants to. He was on a diplomatic mission yesterday, and needed it to go smoothly. Trump came out EXTREMELY STRONG With AMERICAN BOLDNESS. He refused to bow to Islamic fascism.
Trump held the Illuminati orb, not knowing the perceived origin. The black and white color of the orb is eccentric enough to make it look WEIRD AND CREEPY, but the earth continents and shape is a little distraction to make you and Trump think it might be just a genuine / positive piece of artwork. Either way, Trump is not NWO. He's dealing with NWO everywhere and kicking their ass. He's gonna slip and he slipped majorly with Assange, but he is trying not to have his tower blown up with his kids in it. He's been hit with a deep-cutting THREAT, folks. It's a miracle, that he is not quitting as this point. The man is a warrior.
DEATH THREATS, THREATS TO BLOW UP HIS BUSINESS PROPERTIES WHICH HE SPENT A LIFETIME OF HARDWORK BUILDING,
EXTREMELY CLOSE CALL ASSASSINATION ATTEMPTS, MORE MEDIA HATE EVERYDAY. TRUMP IS INSIDE THE ARENA FIGHTING DEMONIC KILLERS. TRUMP IS IN AN EPIC BLOODSPORT .. A DEATH FIGHT .. A LAST MAN STANDING Fight WITH THE GLOBALISTS. HE IS A WARRIOR.
Anti-Christian left-wing nutjobs (who give Islam too much slack), all hold a shared belief (religiously) that all religion sucks and should be flushed down toilet. They say crazy and plain stuff like "GOD IS A BULLY" or say Christ was a  left-wing Democrat (I'm serious), AND THEY RARELY GET VERY DEEP into an epic philosophical conversation. Mainly because their smugness assumes victory over anyone with a religious faith (especially theocratic religions). THE LIBERALS CAN DISBELIEVE IN GOD IF THEY WANT. BUT WHY DO THEY HATE PRO-GOD PEOPLE? WEIRD! SATANIC! EVIL!
So what I mean is, far-left asswipes will already LOOK AT TRUMP with THE ORB and BELIEVE HE's TRYING TO BECOME A SUPER SAIYAN at AGE 70, because he's CRAZY. But that's the snarky ways of these left-wing zealots. They will use analogies like that with a real sense of validity to it, because the MSM has really brainwashed them into THINKING TRUMP's A MADMAN — While they insanely think that HILLARY (WICKED DEVIL) IS A "GOOD" PERSON. Total opposite.
SO LEFT-WING ANTI-RELIGIOUS ZEALOTS, WILL NOW GO DO STUFF FEELING PROUD THE MSM AFFIRMED THEIR FAKE ASS THOUGHTS.
I mean really, people? MSM articles falsely quoting Satanist church (claiming they called the orb "evil" when they did not make a comment good nor bad about it). MSM articles misleading by making it look like Trump freaked out devil-worshipers.
WHETHER OR NOT THE SAUDI ARABIAN GOV'T PLANNED THIS ILLUMINATI CEREMONY TO SECRETLY EXTEND COMMUNICATIONS AND OPEN TRUMP TO EVIL ENTITY .. OR NOT, IT'S WEIRD THAT MSM TAKES A LITTLE SYMBOLISM ON A FOUNDATION'S FIRST DAY — AND MAKES IT OUT TO BE TOTAL LOONINESS. Misleading MSM reporting!
https://t.co/8oil95RVKJ—
Breitbart News (@BreitbartNews) May 21, 2017
Now, the Saudis fund ISIS and they do it in a mega way. Saudi Arabian bigwigs teamed up with HillDog to fund more terror groups. Trump has exposed the Saudis for their mega role in 9/11 as well. Trump did this on worldwide TV, knowing he would probably get martyred for speaking such epic truths at this point in time. Luckily, due to good security mostly, Trump never was taken down. Now the Satanic elite know that Trump is not a Luciferian enthusiast and would never join.
Ben Carson, current HUD head, called out Hillary at the RNC for her wicked devil-worship.
So if Trump were to ever commit a technical Satanic worship ceremony, he would have to be totally tricked, seduced, swindled, or bullied into it .. or all of the above.
The elite bullied Trump into talking tough on international pioneer Assange, and the elite have had Trump do some bleh things. But mostly he's stood strong. Which is almost inhuman to do when you are like Trump — dealing with constant hate everywhere. But despite the elite threats, the deep state security breaches, the sketchy leaks, the false reports, and ALL THE THINGS THEY DID TO TRY AND SCARE TRUMP — they failed. So instead of getting Trump to join them, they may have had inside devil worshipers to trick Trump into the orb shit.
Now after the orb was massaged by 3 mega powerful men's hands, Trump gave a speech and then..went to Israel. Israel is a Biblical gold mine of prophecy fulfillments awaiting — if you are a devout Christian. While Trump did his thing in Israel with the wall touching (he needs to BUILD OUR WALL) and what-not .. a massive SINKHOLE of epic proportions opened up DIRECTLY IN FRONT OF Trump's famous MAR-A-LAGO Resort.
Could the gates of Mar-a-Lago be a symbol for the "gates of hell" opening — as the physical matter descends into the underworld (aka hell). WOW, PEOPLE. CRAZY!
Right after the Illuminati-derived orb ordinance, the sinking hole appeared at the U.S. President's fascinating and attention-centered resort. JUST CRAZY, FOLKS.
OK so wait. Trump. Sinkhole. Wait. TRUMP. ORB. WALL. SINKHOLE. Wow.
Trump
Orb
Wall of Jerusalem
Sinkhole appears
Now, whether or not the orb ordeal was Satanic .. it was Illuminati in it's roots, and as we know the Illuminati has been taken over by total evil — and back at it's origin, it was not ran by such scummy people. But still, the fact the Illuminati-esque orb was touched by Trump and all of that happened with the wall (which is so Biblical) and then the SINKHOLE HAPPENS. Like, wow.
OBVIOUS SIGNAL rightaway that Trump isn't a globalist evildoer — he DOES NOT bow down to the Islamic fascist globalist King of Saudi.
Obama and the Bush's were all evildoing lunatics with the Saudis. TOTAL PSYCHOTIC KILLERS ON POWER-TRIPS. Trump does not bow to evil though. Good job, Mr. Trump.
Charisma News mentioned the wall and End Times Biblical prophecy & where Trump could fit into it all.
Here's the short version, according to God's plan. Sooner or later, all the nations of the world are going to unite against Israel.

In 1948, none of Israel's Arab neighbors accepted the U.N. partition. Instead, they attacked the nascent Jewish state, confident they would be victorious. They weren't.

Nearly 70 years later, they're professing, in the name of peace, to accept the original partition, dubbed "Auschwitz borders" because they're indefensible.

As the nation prepares to celebrate the 50th anniversary of the Six-Day War, when it defeated another multi-pronged attack by neighboring Arab countries, the nations of the world are calling on it to cede Judea and Samaria and re-divide Jerusalem, not a winning proposition from Israel's point of view.

It's not a little ironic that the man who campaigned on a pro-Israel platform may turn out to be God's chosen vessel to bring the Jewish state to the point that He steps in to defend her.

Peace, peace when there is no peace? (see Jer. 6, 8; Ezek. 13) Un-walled villages? (see Ezek. 38) Is it all coming to pass before our eyes?

Time will certainly tell.
I cannot confirm or deny what this all means. Could be a coincidence. Tell me your thoughts.
Trump is not a Luciferian Illuminati occultist. He's an elite by financial holdings, but elite via sick, sadistic, psychotic, murderous mindpath? Hell no. DID THEY TRICK TRUMP With The ILLUMINATI ORB To USE THEIR BELIEVED SATANIC POWERS? Potentially. But if the orb had evil intentions, Trump would not touch it unless totally tricked my bullshit info.