The Washington Post is a flawed media organization owned by billionaire Jeff Bezos, who was a Hillary supporter & hates President Trump with a passion. Bezos spoke out against President Trump repeatedly — yet expects us to believe his newspaper is truly reporting the truth.
The Washington Post published an article titled "The first days inside Trump's White House: Fury, tumult and a reboot" just a few days ago, on Jan. 23rd. Washington Post reporters Ashley Parker, Philip Rucker, and Matea Gold posted the article based off of sources .. sources that they did not identify nor name. Because there are no sources. WashPo made this up and just claimed 'sources' and 'aids close to the president' told them. Yeaaah, sure!
They claim that after President Trump returned from the interfaith prayer service on Saturday, that he lashed out when he turned on the TV and saw protests against his Presidency across the globe. And then President Trump saw the comparison between Obama's inauguration attendance and his own. Of course, the media circulated a picture of Obama's inauguration crowd and put it right along side a picture of Trump's inauguration crowd. The picture of Trump's inauguration crowd was taken before the event began, yet the media reported it as if the pic of the crowd was at the time Trump was getting Inaugurated. TOTALLY FALSE! Anyways, WashPo [citing unnamed sources] claimed President Trump got really upset by what he saw on
the TV.
As we know, the media
has been incredibly salacious  and dishonest when covering President Trump and his monumental campaign. And it's no wonder President Trump can't stand them, as millions of Americans can't either. The media only is trusted by 6% of people, probably lower percentage in reality. But the WashPo reports that his advisers were trying to calm President Trump down. Of course, the WashPo could not identify the 'sources' of this report. HUH! Weird! WashPo reported that President Trump commanded his White House Chief of Staff Sean Spicer to go out to the podium and scathe the media for their dishonest and disrespectful reporting. Of course we know Sean Spicer went off on the media but there is no evidence it was on direct orders from Pres. Trump. Obviously Spicer, along with other conservatives, were just fed up with the never-ending attack on the newly-Inaugurated POTUS.
The WashPo reported, with 'sources' they did not name, that President Trump wanted Sean Spicer to get more aggressive. The WashPo then said that after Spicer's Monday performance, the President was pleased. The WashPo then reported, CITING SOURCES THEY DID NOT NAME NOR IDENTIFY IN ANY FASHION, that there is internal fighting happening between Jared Kusher and Kellyanne Conway and others. The WashPo also claimed that an 'inside source' told them President Trump placed Kellyanne Conway's office on the second floor to distant her from him. The WashPo also claimed that the unnamed 'confidant' predicted that President Trump will rarely climb a flight of stairs. FUNNY because President Trump put on a Herculean performance in the final days of campaigning, and was Extremely 'HIGH-ENERGY' all campaign. So President Trump's general attitude already disputes that claim.
The Washington Post is biased! Fake news!
Here is an excerpt from WashPo's hit piece:
Some Trump insiders have suggested tension between Conway and Priebus, but she said that could not be further from the truth. "I really respect the job that Reince is doing most of all," Conway said. "He has a very good way of choosing battles wisely, results in bruised feelings sometimes, so be it."
As you see, the WashPo said that there is 'tension between Conway and Priebus' based off of info they received from 'Some Trump insiders' .. Hmm? Excuse me if I don't trust that. The reference they claim to have gotten it from is extremely vague, according to
Buzz Aldrin who told me he saw Spider-Man and the Easter Bunny when he landed on the moon.
See? I can easily cite imaginary sources as well, WashPo. Just the difference is, I use it in a satirical fashion to mock your truly salacious, truly untruthful, truly disrespectful, truly flaky reporting.
Now compare the WashPo's report about the Trump White House, to the actual inside accounts that is completely publicized for everyone to see.
Check out Sean Hannity's interview with President Trump. Airing tonight at 10 PM ET. Or you could even check out an interview from ABC, below.
Or you could see live video accounts of President Trump's accomplishments and his daily obligations, as it is posted on social media for everyone to see what it is like inside the Trump White House.
So in the tweets above, you can see video evidence of stuff that's actually going on inside The White House. But in WashPo's article, there's no proof of their reports. WashPo has no video evidence nor audio evidence to support their claims. WashPo cites 'sources' with no names. As we all know, when you cite unnamed 'sources' it usually means there are no sources.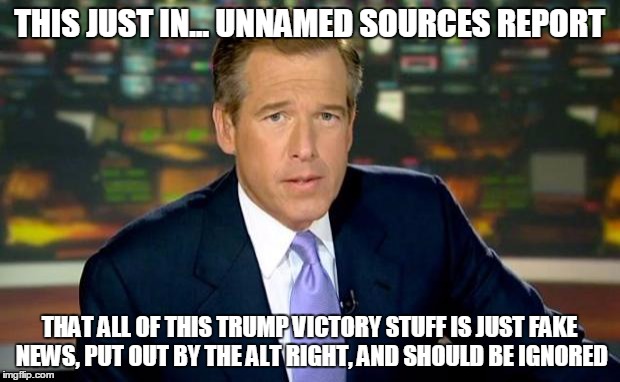 WashPo is a corporate, mainstream, liberal media outlet. President Trump cannot be bought off by
corporate lobbyists, and the corporate media is livid about that. Therefore you can't trust WashPo's reports about President Trump, if there is no credible source of proof for their allegations.