We REMEMBER LAST YEAR, When The VIOLENT, LIBERAL, RADICAL, UNHINGED Thugs In CHICAGO STOPPED one of Donald Trump's rally.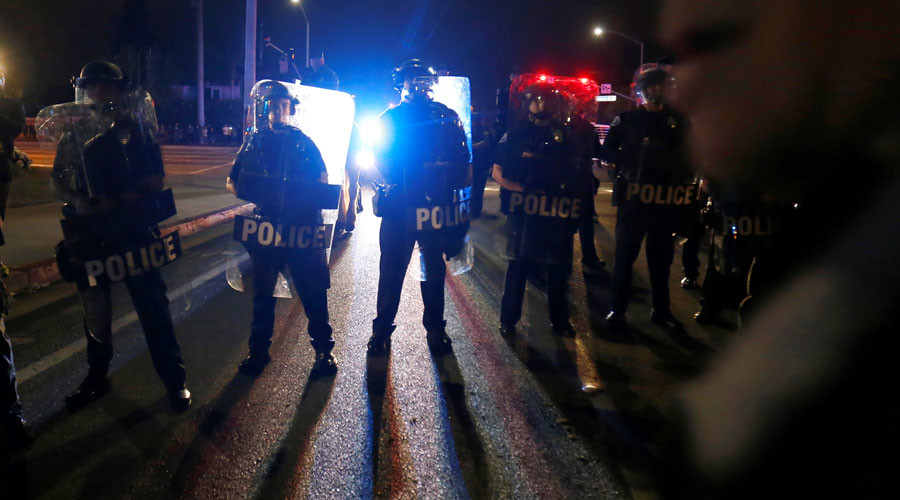 THE RIOTS GOT SO VICIOUSLY VIOLENT THAT DUE TO THE SAFETY OF HIS SUPPORTERS BEING IN LIFE-THREATENING JEOPARDY, HE DECIDED TO CANCEL THE EVENT. TO SEE THE REACTION WHEN IT WAS ANNOUNCED HE CANCELLED THE EVENT IN CHICAGO, Click HERE!
That night in CHICAGO was supposed to be a night where PROUD, PRIDEFUL, PRO-TRUMP PATRIOTS were to come together at a peaceful  rally and celebrate their plan to MAKE AMERICA GREAT AGAIN .. Sadly, the LIBERAL ANARACHISTS Ruined IT! TOO BAD, SO SAD FOR THE ANARCHISTS .. Because TRUMP PREVAILED & WON IN THE END!
SHERIFF CLARKE said that the anti-TRUMP ANARCHISTS ARE "GOONS" & Said That TRUMP SUPPORTERS Should NOT Back DOWN FROM THEM.
TRUMP condemned the radical, left-wing THUGS for attacking the people at his CHICAGO RALLY.
http://www.republicbuzz.com/chicago-black-lives-matter-supporter-fired-guns-made-gang-signs-after-trump-rally-cancellation-buzzpo
AS WE HAVE SEEN, CHICAGO IS A DEMOCRAT PARTY-RAN HELLHOLE. TIGHEST GUN CONTROL LAWS, BUT WORST GUN VIOLENCE BY FAR!
So that night in CHICAGO was pretty terrible and probably the worst, but sadly many other anti-TRUMP riots have broken out. And we CHICAGO is lawless. It has THE TOUGHEST & STRICTED GUN CONTROL REGULATIONS Yet It Has the HIGHEST SHOOTING AND MURDER RATE. Chicago is DEMOCRAT PARTY-run HELLHOLE. We even saw a disabled man get KIDNAPPED and TORTURED by four thugs who HATE TRUMP. And that happened in CHICAGO. President Donald Trump has a great plan to help fix the problems that plague inner-cities. And PRESIDENT TRUMP wants to fix the VIOLENT,BLOODY, INNER-CITY STREETS and PRESIDENT TRUMP wants to fix Chicago, which an utter cesspool of blood, drugs, guns, gangs, and death. PRESIDENT TRUMP loves CHICAGO and has an amazing TOWER THERE. It's truly a CHICAGO LANDMARK. But PRESIDENT TRUMP knows he must fix the lawless, sadistic, gang-ridden, scummy, disgusting, drug-filled CULTURE & SAVE THE AMERICANS FROM THE INNER-CITIES [that DEMOCRATS created].
So, LIBERALS ARE MAD BECAUSE PRESIDENT TRUMP SAID HE WILL SEND IN 'THE FEDS' TO STOP LAWLESS, DECIVILIZED, VIOLENCE IN CHICAGO. And according to liberals, that is NOT okay. But LIBERALS TOTALLY WRECKED TRUMP's PEACEFUL EVENT IN CHICAGO IN MARCH 2016, and LIBERALS WERE COMPLETELY OKAY WITH IT. Insane! Sad! Read More About The MARCH 2016 ANTI-TRUMP RIOT In Chicago, right HERE.
YES, Chicagoans. DON'T GET MAD @ Your DEMOCRAT PARTY Overrulers. LET THEM CODDLE YOU WHILE YOU LIVE A SAD LIFE OF CRIME, DRUGS, MURDER, MISERY.
No, but seriously. Chicago is horrible and violent! The Democrat Party's policies have been chatastrophic for the city. Just like they were for Detroit. And with Chicago's mayor endlessly criticizing the 'LAW & ORDER' President DONALD J. TRUMP, he should have expected PRESIDENT TRUMP to fire back!
THE BIGGEST POLICE UNION IN THE WORLD IS FULLY SUPPORTIVE OF PRESIDENT TRUMP.
In the tweet below, PRESIDENT TRUMP warns Chicago to quit the BRUTAL KILLING & GANG WARFARE or else it may come to the point where MASSIVE FEDERALIZED / MILITARIZED LAW ENFORCEMENT OFFICIALS have to STEP UP! I have a feeling by 'the feds' he means the NATIONAL GUARD, more than likely.
Apparently, Chicago Police Department Superintindent is IDIOTIC! He claims to 'not know' what President Trump is talking about. Chicago's Police Superintindent must be a DEMOCRAT!