If There EVER Comes A Time Where POTUS TRUMP is not fulfilling his 'CONTRACTUAL OBLIGATIONS' to the American voter[s], then I will DISCUSS IT & Expose THAT.
But the fact is, WITH WHAT HE DID while being the President-elect .. and with WHAT HE IS DOING RIGHT NOW, Working EXTREMELY FAST & Already MAKING SIGNIFICANT PROGRESS ON The MANY GOALS He PROMISED To FULFILL, it is UNDOUBTABLE that as of right now — PRESIDENT DONALD JOHN TRUMP is currently DOING WHAT HE SAID & CURRENTLY DOING THE 'PRO-AMERICANISM' POLICIES That Will OFFICIALLY & Truly 'MAKE AMERICA GREAT AGAIN!'
Despite the UNBELIEVABLE PROGRESS That PRESIDENT TRUMP has already made in such a short time, the corporate-owned media [aka THE MAINSTREAM MEDIA aka THE ABUSIVELY-BIASED MEDIA aka THE ABUSIVELY-DISHONEST MEDIA aka THE LIBERALLY-BIASED MEDIA aka THE DEMOCRAT-COLLUDING MEDIA aka THE ANTI-CONSERVATIVE MEDIA] is totally LYING about PRESIDENT TRUMP's PRESIDENTIAL Progression!
I mean, BACK BEFORE HE EVEN HAD A FULL CABINET ANNOUNCED — The MEDIA WAS SAYING HE IS NOT GOING TO 'DRAIN THE SWAMP'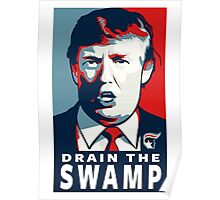 .. When IN REALITY, THE MEDIA WOULD NOT TALK ABOUT CLEANSING THE GOVERNMENT OF CORRUPTION if ANYONE BESIDES TRUMP WON, BECAUSE THE MEDIA IS APART OF THE CORRUPTION IN THE GOV'T.
The media corporations and media corporate stockholders and media corporate bigwigs and lobbyists CAN'T GET FAVORS nor ACCESS of ANY TYPE OUT OF PRESIDENT DONALD J. TRUMP .. because PRESIDENT TRUMP self-funded his campaign! AND AS WE KNOW, VICE PRESIDENT PENCE MADE IT A TOP PRIORITY TO FULLY DELETE ANY LOBBYISTS WITHIN THE ADMINSTRATION .. And THAT'S EXACTLY WHAT HE DID. And when VP PENCE did that, it was not only a BOMBSHELL That SET OFF TOTAL SHOCK AND OUTRAGE THROUGH THE CORRUPT CRONIES In THE GOVERNMENT .. But it was an 'OH SH*T' MOMENT for the Establishment & Power Structure that figured PRESIDENT TRUMP would eventually become one of them. BUT WHEN VICE PRESIDENT PENCE WENT THERE & ACTUALLY DID IT, It SHOWED THE AMERICAN PEOPLE THAT 'HELL YES', PRESIDENT DONALD TRUMP IS FORREAL [as if anyone had a doubt] & IT SHOWED THE CORRUPT 'GOBLINS' IN D.C. That THEIR 'HAYDAY' IS OVER!
So, we know that the LIBERAL MEDIA has been ABUSIVELY-DISHONEST about TRUMP .. and they continue to be that way, MAYBE WORSE NOW THAN EVER BEFORE.
WE KNOW That The LIBERAL MEDIA Is REPEATEDLY LYING About PRESIDENT DONALD J. TRUMP.
But let's take a look at the completely disgusting, heinous lies by the media that solely-denies the POLICIES that PRESIDENT TRUMP is CURRENTLY Implementing, Executing, & Fulfilling. HERE'S JUST A FEW!
DESPITE PRESIDENT TRUMP WORKING LIKE CRAZY TO GET THE WALL PHYSICALLY STARTED AS SOON AS POSSIBLE, The MEDIA CLAIMS IT'S NOT GONNA HAPPEN .. Or THE MEDIA SAYS THAT IT WON'T BE A 'REAL WALL' .. TOTAL LIES BY THE MEDIA!
Despite PRESIDENT TRUMP's several ways. IN WHICH HE HAS DISCUSSED How He WILL HAVE MEXICO Pay For The TRUMP  Border Wall.
With The Executive ORDER Currently PERMEATING It's WAY THROUGH CONGRESS, ONCE The EXEC. ORDER Is THROUGH All The CHECKPOINTS, Will NOT Have To COMPLY With Any Environmental Policies.
The AMOUNT Of MONEY That WE LOSE A YEAR Due To ILLEGAL IMMIGRATION Is STAGGERING, It's ANYWHERE Between 56,500,000 Billion [Being Kind] & 113 Billion Dollars PER YEAR.
Just One LITTLE Report To HELP You UNDERSTAND How BAD ILLEGAL Immigration Is FOR The AMERICAN Economy:

Based off of the confirmed studies, I GAVE THE ILLEGAL IMMIGRANTS The benefit of the DOUBT and Went To MIDWAY POINT Between 1700 and 2370. I then used a conservative number [so conservative that it's inaccurate but that just further states HOW MUCH EVEN JUST THE MAJORITY OF THE CALIFORNIAN HOUSEHOLD COULD SAVE IF THE GOV'T DIDN'T GIVE MONEY TO ILLEGALS]. So 38 million CALIFORNIAN Households MULTIPLIED by 2035 Equal … $77,330,000,000

A bombshell, WHOPPING $77 Billion And A THIRD MORE Of CALIFORNIAN TAXPAYER MONEY WENT TO AMERICAN Interests AND NOT ILLEGAL CRIMINAL ALIENS. And THAT'S A CONSERVATIVE Number. I'd SAY At LEAST A $90 Billion MORE TAXPAYER MONEY COULD GO TO INFRASTRUCTURE,INNER-CITY DEVELOPMENT, National Security, Governmental Financial NECCESSITIES Just TO OPERATE [Therefore ONLY LEADING To LOWER TAXES, Organically], U.S. Military NECESSITIES, Scientific & Technological Developments, BETTER Public SCHOOLS [Which IS Especially NEEDED In URBAN COMMUNITIES Along WITH RURAL Communities, OVERALL]. That extra 90 Billion [CONSERVATIVELY] Californian TAX-PAID MONEY Could SPREAD Up THROUGH ALL OF THOSE SECTIONS I mentioned, PLUS MORE — Including VETERANS who need OUR HELP.
Now, even if the TRUMP WALL is NEVER OFFICIALLY REIMBURSED By The MEXICAN GOVERNMENT, FINANCIALLY — By The TIME WE SEAL OUR BORDERS, And GET THE TAXPAYER-DOLLARS GOING To The PROPER, PRO-AMERICAN PLACES & POSITIONS They Need To Be DIRECTED TO — IT WOULD BE WELL WORTH IT.
SO THE TAXPAYER DOLLARS ARE GOING TO THE RIGHT PLACES, FOR THE LOWEST COSTS POSSIBLE BUT NOT AT THE EXPENSE OF THE MAXIMUM QUALITY Obtainable.
Now when I say That MEXICO Can Still REIMBURSE The 25 Billion [Maximum] Cost Of The Wall — WITHOUT MEXICO 'OFFICIALLY' Doing it, I MEAN THIS… Through the renegotiation [or even OBLITERAITION] of job-killing NAFTA, through the end of massive economic deficits piled up by illegals, through higher wages DUE to illegals not being able to steal jobs, and through bilateral trade deals that SUPPLEMENT US EQUALLY In The AMOUNT IT BENEFITS The OTHER COUNTRY [or COUNTRIES] That We AGREE TO IT WITH [Only GOING TO GET FAIR TRADE DEALS UNDER The INDEPENDENT,NON-OWNED Man NAMED PRESIDENT DONALD J. TRUMP] — You're not even gonna NOTICE THE Measly 25 BILLION SPENT ON A SOUTHERN BORDER BARRIER When JUST EMBEDDING THAT ON THE BORDER WILL SO MUCH GREAT THINGS FOR US Security-wise AND ECONOMICALLY.
But when I say that 'MEXICO WILL REIMBURSE US FOR THE BORDER WALL PRICE even if it's not an official payment from the Mexican government', I mean that through NAFTA benefitting us EQUALLY as it benefits MEXICO & That Readjustment Of ECONOMIC GROWTH Through A MEXICAN-AMERICAN Trade DEAL Will TECHNICALLY Be FINANCES Put Into THE AMERICAN SYSTEM By MEXICO .. Thus 'MEXICO PAID FOR THE WALL' .. Now also, an official payment by the MEXICAN GOVERNMENT would be OFFICIALLY RECOGNIZED, Governmentally, AS A 'PAYMENT' If Gov't LEADERS Of MEXICO & AMERICA Openly MET ABOUT This PARTICULAR TRANSACTION .. And then the gov't leaders publicly announced that the GOVERNMENT OF MEXICO & the GOVERNMENT OF THE U.S.A. have officially reached an agreement TO SEND 25 BILLION DOLLARS OF IT'S OWN FUNDS & OFFICIALLY Give It To THE U.S. Government. And BOOM, then it would be official. BUT SINCE WE KNOW THAT WON'T HAPPEN, Not BECAUSE MEXICO's GOVERNMENT WOULD NOT REIMBURSE US [PERSONALLY] FOR THE 'Trump Wall' because they would .. but the MEXICAN GOVERNMENT would NEVER ANNOUNCE THE DEAL PUBLICLY as IT WOULD MAKE THEIR COUNTRY SEEM SUBSERVIENT TO OURS. And that would not be good from a pride-perspective NOR would it Mexico look commendable on an international scale. SO IN PRIVATE, I guarantee you MEXICO will PAY US 110% For THE WALL. BECAUSE MEXICO IS SO DEPENDENT ON US,especially economically. And with MEXICO BEING AN UTTER MESS THAT IT IS, Without the USA — It WOULD Be An IDENTITY That ALIGNS More With THE '3rd WORLD' Spectrum Than A TRUE, ADVANCED Nation-STATE. So TRUST ME, MEXICO Will PAY FOR THE WALL BEHIND THE SCENES. But you'll never know it, OUT OF MEXICO NOT WANTING TO LOOK SUBSERVIENT. That's UNDERSTANDABLE. And ALSO, THROUGH THE US and MEXICO being allies anyway.
PLUS, PRESIDENT TRUMP is in it for the Renaissance, for the recapturing of AMERICANISM, for the eradication of GLOBALISM, for the revival of Prosperity & Human LIBERTY & FREEDOM. That's what PRESIDENT TRUMP is for. Not for the attention nor the glory..TRUMP is rich enough, LOL. But PRESIDENT TRUMP is doing it for the COUNTRY HE DEEPLY-LOVES, THE USA, and ALL OF IT'S CITIZENS and THE FUTURE OF CITIZENS To COME.
And AS YOU CAN SEE, President Donald J. Trump, is Truly Doing What He PROMISED. He is the AMERICAN PEOPLE's PRESIDENT. Americanism, NOT GLOBALISM!
Restore Manufacturing Jobs So AMERICANS, Despite The Cleanliness & Crime Rate In Their Neighborhod, Have JOBS JOBS JOBS .. So They Can Provide For Themselves & [Or] Their Families Over A Long Time OR To Get A Jumpstart In your life. Jobs, Jobs, JOBS Will Fix SO MUCH! It's EXCITING!