When the Presidential Inaugural Committee officially snagged Jackie Evancho to sing "THE STAR-SPANGLED BANNER" for the TRUMP INAUGURATION, they hit an absolute homerun. BECAUSE JACKIE EVANCHO KILLED IT!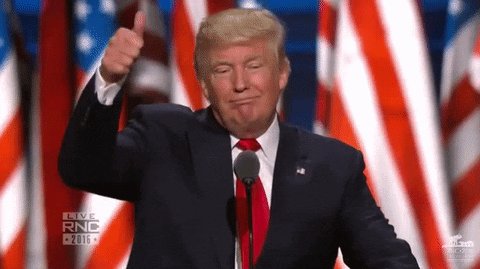 Right after DONALD TRUMP swore in and became the 45th PRESIDENT of the US, Jackie Evancho began to sing the NATIONAL ANTHEM. Watch & listen below!
Jackie Evancho is very well known and at only the young age of 16, she is already tremendously successful. Jackie finished 2nd in the 5th season of America's Got Talent, and that was when she really began to hit her stride. Ever since then she has performed at multiple premiere events and she's won several awards. She's got a tremendously bright future ahead!
As you see, PRESIDENT TRUMP was very pleased with Jackie Evancho's performance. He said "GREAT JOB, JACKIE!" right after she knocked it outta the park! TREMENDOUS PERFORMANCE, JACKIE!
When Jackie Evancho first announced that she accepted the invitation to perform — she noted how truly honored she was to have the opportunity. She said "I'm so excited. It's going to be awesome." when she went on the NBC Today Show to talk about it, back last month. Jackie Evancho sung for President Obama in 2010 & in 2012, and when she went on the NBC Today Show to discuss the fact she is going to perform for President Trump — she said "I felt really honored to have the chance to perform for the president again,"
Jackie Evancho truly did a fantastic job at the TRUMP INAUGURATION! When she finished everyone loudly applauded! It's great to see that Jackie Evancho was so enthusiastic to perform for PRESIDENT TRUMP at the INAUGURATION. After it was officially announced that Jackie Evancho was going to perform, back in December, her album sales absolutely skyrocketed!
Here's a cool fact. Back years ago, Jackie Evancho met President Trump at his beautiful Mar-a-Lago resort. Of course, Jackie met President Trump — way before he was 'PRESIDENT TRUMP'!
That pic was taken over 6 years ago. And what do ya know?! It all comes full circle! NEAT!
This slideshow requires JavaScript.
Jackie Evancho posted some pics of her INAUGURATION EXPERIENCE on social media. Take a look, below.
Jackie Evancho posted that on Jan. 18th. The pic is of her with the MARINE CORPS BAND, rehearsing the NATIONAL ANTHEM!
She put up those two posts just a day before the INAUGURATION.
In the video above, Jackie Evancho shows you the view of D.C.
In the pic above, you can see it says 'TOGETHER WE STAND' .. yup, so that's a message for all of you haters who say that JACKIE EVANCHO should not have performed for PRESIDENT TRUMP! If you didn't like JACKIE's performance, then you are an idiot!
Video above of JACKIE EVANCHO performing at the Candlelight Ball, the night before the INAUGURATION!
Jackie Evancho posted those two pics just yesterday! I think she did an absolutely fantabulous job with the NATIONAL ANTHEM @ the INAUGURATION of DONALD J. TRUMP! Jackie Evancho was featured on the CBS Sunday Morning show just a few days before she performed at the Inauguration, so click here to check out the feature. Jackie Evancho was also on Fox & Friends just the day before the Inauguration, so click here to watch it. JACKIE EVANCHO IS GREAT! ! !