VP Joe Biden has come out and [accidentally] trashed Hillary Clinton.
Hillary is pretty vapid. She's only in it for herself.
Obviously, VP Biden didn't mean to sound rude but I'm sure Hillary doesn't appreciate his statement. VP Biden wanted Hillary to win the election but he claims that Hillary never had a clear, full, true vision for the future of the US. Wiki-Leaks exposed that Hillary truly hates "everyday Americans" despite the fact she claims that she's fighting for them. And Hillary called half of Trump's supporters 'deplorable' as we all know, and saying that is viciously demonizing a big, fat, huge chunk of the country's population. It's truly demagoguery. We also know that Hillary secretly hates gay people, black people, and Catholics. We also know that Hillary has a public policy and a private policy, therefore she lies to her voters and then does the opposite of what she tells them. Wiki-Leaks also exposed the fact that Hillary thinks the Iran deal will lead to a nuclear war [which she probably wants], despite the fact that she publicly supports it. Hillary knows that the world is on the verge of nuclear war due to the Iran nuke deal, yet she doesn't care because it benefited her. So if Hillary flip-flops so much like she has and if she is a different person in private, then she doesn't even know who she truly is..therefore she does not have a vision for America. VP Biden campaigned for Hillary and even admitted that he knew most of Hillary's supporters were not enthusiastic about her.
VP Biden said that Hillary "thought she had no choice but to run" because of the opportunity to become the country's first female President. VP Biden said that the challenge was a "real burden" on Hillary and tough for her to handle.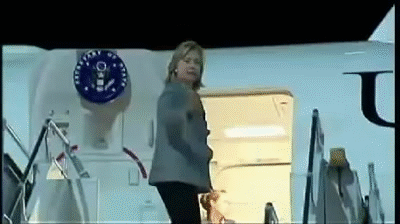 Uh yeah .. VP Biden, we can tell that many things are quite the

"burden"

for the Hilldog.
Also during the interview, VP Biden talked about how even Hillary's campaign staffers/insiders didn't really know if Hillary truly had a purpose for running or if Hillary had a vision for America. VP Biden said "I don't think she ever really figured it out." You can check out the full interview that VP Biden had with the LA Times, by clicking here!
Thank you for your support!