The first woman to ever lead a Presidential campaign to victory, Kellyanne Conway, was a keynote speaker at the American Democracy Conference. The event was sponsored by University of Virginia's Center for Politics, and took place in Washington DC. This event took place earlier today and is the 18th consecutive event they've done [annually].
Trump's campaign manager / trusted aide, Kellyanne Conway, was one of the biggest names set to speak. Kellyanne Conway spoke and she also took some questions from attendees. [To watch Kellyanne talk at the conference, click this link. And skip to '01:06:00′ of the video]
One attendee was a high school student and a total, undercover operative for the liberal rag, 'Mother Jones'. The high school student, Maaike Laanstra-Corn [the 17 year old daughter of the 'super-liberal', Mother Jones Washington bureau chief David Corn] asked Kellyanne a totally ridiculous question.
Maaike Laanstra-Corn asked Kellyanne Conway how she could "rationalize" working for someone accused of sexual assault [referencing President-elect Trump and the unproven claims that many of Hillary Clinton's sycophants brought forward about Trump 'sexually assaulting' them]. As you see, the student basically asked how Kellyanne could ever justify working for a rapist. The student [just a reminder, her father works for 'Mother Jones'] also referenced the leaked audio tapes of Trump from 2005, where he's heard having a lewd conversation in private. The 2005 audio tape is very controversial because it sounds as if Trump is saying he has grabbed women "by the pu**y" without their consent, but anyone with an 'ounce of logic' obviously knows it was just 'locker room talk' that most natural, healthy, heterosexual males use.
So after Kellyanne Conway was asked that condescending question [about how she could justify working for a 'rapist' President-elect Trump (who is not a rapist but the liberals want you to believe it)], Kellyanne Conway completely owned the stupid, ignorant, liberal student.
Kellyanne Conway responded,
"I'm glad that people looked at [those attacks (that condemned Trump of raping women with no proof at all)] and said: 'You know what? That's an argument that will not create a single job in my community, not bring back a single of the 70,000 factories that have been closed, will not deter one member of ISIS from doing their bloodletting here or anywhere else in the world.'"
Oh, but we are not finished. Kellyanne totally ripped this student [a.k.a. Mother Jones operative] a new one. Kellyanne continued with her answer,
"What you just said was said probably tens of thousands of times during the campaign, on the Internet, on TV incessantly, in paid advertising, all this 'anti-woman' stuff …

And you know how America's women answered? They gave the would-be first female candidate, I don't know, what was it, 56 percent of the vote, 57?

She [Hillary Clinton] should have gotten 60 or 62 percent of the female vote. And she did not.

And part of why she did not is because women are tired of the same argument and the same thing that you're presenting to me now, even though you're trying to be personally mean about it.

For you to use sexual assault to try to make news here I think is unfortunate … but it also doesn't matter because Donald Trump promised he'll be a president of all Americans."
Wow! That liberal student, Maaike Laanstra-Corn, got totally LAMBASTED by Kellyanne Conway! That student should have never brought up the 'sexual assault' argument [because none of the women (that accused Trump of rape) had any evidence and some of the women were even debunked].
Well done, Kellyanne Conway!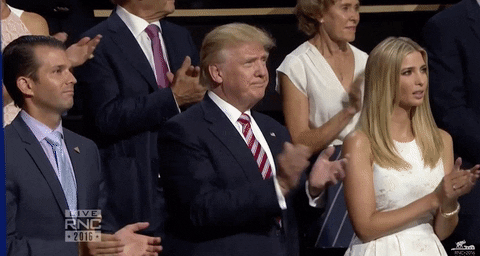 Now of course, you know that the student [who accused Kellyanne of working for 'Trump the rapist'] is the daughter of a super-liberal 'Mother Jones' author. So let's see how her father reacted to this on Twitter:
So as you see, the student's father David Corn [of Mother Jones], was waiting to retweet the news — thus proving he sent his own daughter to ask this question. I told you that the student was an operative!
Then the student's father, 'super-liberal' author for 'Mother Jones' David Corn, obviously was very 'salty' about his precious little, liberal daughter getting owned. So he went on a little tirade of this own.
The student's father then retweeted those posts.
So as you can see, David Corn sent his daughter to ask a ridiculous question. David Corn and 'Mother Jones' suck!
[As you see, that's how 'Mother Jones' treats Republicans and conservatives. They put gross caricatures of them on their magazine covers.]
Now that we have gotten past all of that mess, caused by 'Mother Jones', let's enjoy some Twitter posts from conference earlier today.