This season in the NBA, at least 4 teams have already come out and said that they refuse to stay at any of President-elect Trump's 5-star hotels throughout the entirety of the NBA season.
As you see in the tweets above, the teams that have been triggered by Trump are:
Dallas Mavericks
Memphis Grizzlies
Milwaukee Bucks
Atlanta Hawks
It is not a surprise to see the Mavericks appear on the list due to the fact that Marc Cuban (Dallas Mavericks owner) heavily supported Hillary Clinton and was a strong critic of President-elect Trump throughout the grueling campaign.
(Mark Cuban took a shot at Trump in the tweet above while Trump delivered his epic speech at the RNC.)
Both the Mavericks and the Grizzlies have stated that their decisions to not stay at any Trump Hotels were decisions made during the presidential campaign, and were not choices made after Trump's victory.
What are your thoughts on this revelation? And isn't it amazing that these NBA players get paid millions on top of millions to dribble up and down a court AND YET they still complain about America? It's pathetic that these NBA teams have been triggered by a patriotic nationalist who wants to Make America Great Again.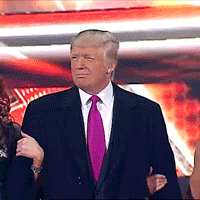 Oh well! Haters gonna hate and NBA players are gonna keep on gettin' triggered! President-elect Donald Trump is gonna keep on rollin', baby!
Thank you for your support!